Model No
Step
Rated
Rated Current
Phase
Phase
Holding Torque (g.cm)
Rotor Inertia (g.cm²)
Motor Length(mm)
Leads No.
Motor Weight
Angle
Voltage
(A)
Resistance
Inductance
(g)
(°)
(V)
(Ω)
(mH)
35HS30-0804
1.8
5.44
0.8
6.8
8
1200
17
30
4
150
35HS30-1504
1.8
2.25
1.5
1.5
1.8
1200
17
30
4
150
35HS34-0504
1.8
6.6
0.5
13.2
14
1500
20
34
4
170
35HS34-1204
1.8
3
1.2
2.5
3.5
1500
20
34
4
170
35HS38-1684
1.8
2.77
1.68
1.65
2.8
2000
24
38
4
200
35HS38-2004
1.8
5.6
2
2.8
3.8
2500
24
38
4
200
35HS45-0804
1.8
6
0.8
7.5
12
3000
28
45
4
250
35HS45-2004
1.8
5
2
2.5
2.6
4500
28
45
4
250
Overview
A Nema 14 stepper motor is a stepper motor with a 1.4 x 1.4 inch (35 x 35 mm) faceplate. Nema 14 high torque stepper motors deliver great value with no quality sacrifice. These motors are engineered to provide the highest possible torque but minimize vibration and audible noise. A wide range of motor windings and stack lengths are readily available, or the motors can be customized to meet your machine requirements. The standard 4-lead motors are connected in the series configuration. We can also have the windings customized to perfectly match your voltage, current and maximum torque at operating speeds.
NEMA stepper motor sizes depend on the frame size of the stepper motor. NEMA means the standards set by "National Electrical Manufacturers Association", which is comprised of 560 major electrical manufacturers in the United States, primarily consisting of manufacturers of equipment and devices for power generation, transmission, distribution, and power applications. The purpose of standard setting is to eliminate misunderstandings between electrical product manufacturers and users and to specify the safety of these product applications.
This bipolar Nema 14 stepper motor with step angle 1.8deg and size 35x35x34mm. It has 4 wires, each phase draws 0.8A at 5.4V, with holding torque 18Ncm (25.5oz.in).
Electrical Specification:
Manufacturer Part Number: 35HS
Motor Type: Bipolar Stepper
Step Angle: 1.8 deg
Holding Torque: 12-45Ncm(16.9-63.7oz.in)
Rated Current/phase: 0.5-2A
Phase Resistance: 1.5-13.2
Inductance : 1.8-12mH ± 20%(1KHz)
Physical Specification:
Frame Size: 35 x 35mm
Body Length: 30-45mm
Shaft Diameter: Φ5mm
Shaft Length: 24mm
D-cut Length: 16.5mm
Number of Leads: 4
Lead Length: 400mm
Weight: 150-250g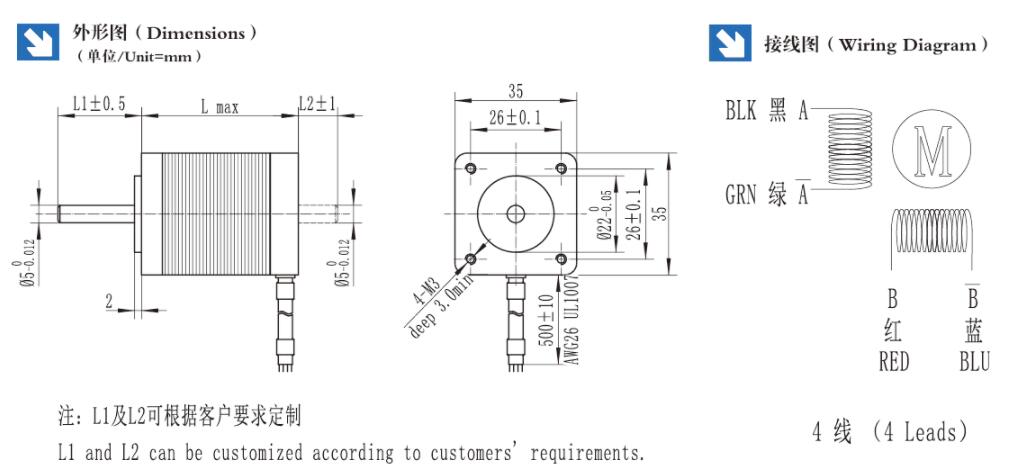 A Manufacturer's Certificate of Origin, also known as a Manufacturer's Statement of Origin, is a specified document certifying the country.
CONTACT Lunyee
If you are interested in our company or products, you can contact with us through online consulting, demand table submission, e-mails and telephones. Our staff shall wholeheartedly provide product information, application knowledge and good service for you.