Model
Unit
AH064
AH090
AH110
AH140
Ratio
Stage
Rated output torque
N.m
18
50
120
240
3
1
27
75
180
360
4
27
75
180
360
5
27
75
180
360
7
18
50
120
240
10
35
90
180
450
15
2
37
96
230
450
16
37
96
230
564
20
37
96
255
585
25
37
96
230
564
28
27
87
180
360
30
37
96
255
585
35
37
96
230
564
40
37
96
255
585
50
27
87
180
360
70
18
50
120
240
100
Emergency stop torque
N.m
3 times Rated output torque
Norminal input speed
rmp
3000
3000
3000
2000
Maximum input speed
rmp
6000
6000
6000
3500
Maximum radial force
N
1500
3300
8500
9100
Maximum axial force
N
750
1700
4300
8200
Efficiency
%
Single [97%]
Double [95%]
Average lifetime
h
20000
Weight
kg
1.4
3.7
8
16
1
1.6
4.2
8.9
17
2
Moment of inertia
kgcm2
0.16
0.61
3.25
12.31
3
1
0.14
0.48
2.74
7.54
4
0.13
0.47
2.71
7.42
5
0.13
0.47
2.62
7.25
7
0.13
0.44
2.57
7.14
10
0.127
0.72
2.56
12.35
15
2
0.088
0.5
1.75
7.47
16
0.075
0.44
1.5
6.65
20
0.075
0.44
1.49
5.81
25
0.064
0.39
1.3
6.34
28
0.064
0.39
1.3
6.34
30
0.064
0.39
1.3
6.34
35
0.064
0.39
1.3
4.08
50
0.075
0.39
1.5
7.5
63
0.075
0.39
1.5
7.5
70
0.075
0.39
1.5
7.5
100
Backlash
arcmin
≤3
≤ 3
≤3
≤3
Precise[1]
≤5
≤5
≤5
≤5
Standard[1]
≤5
≤5
≤5
≤5
Precise[2]
≤7
≤ 7
≤7
≤7
Standard[2]
Torsional rigidity
N.m/arc min
7
14
25
50
Noise
dB
60
62
62
68
lubricating
Synthetic grease lubrication
levels of protection
IP65
Overview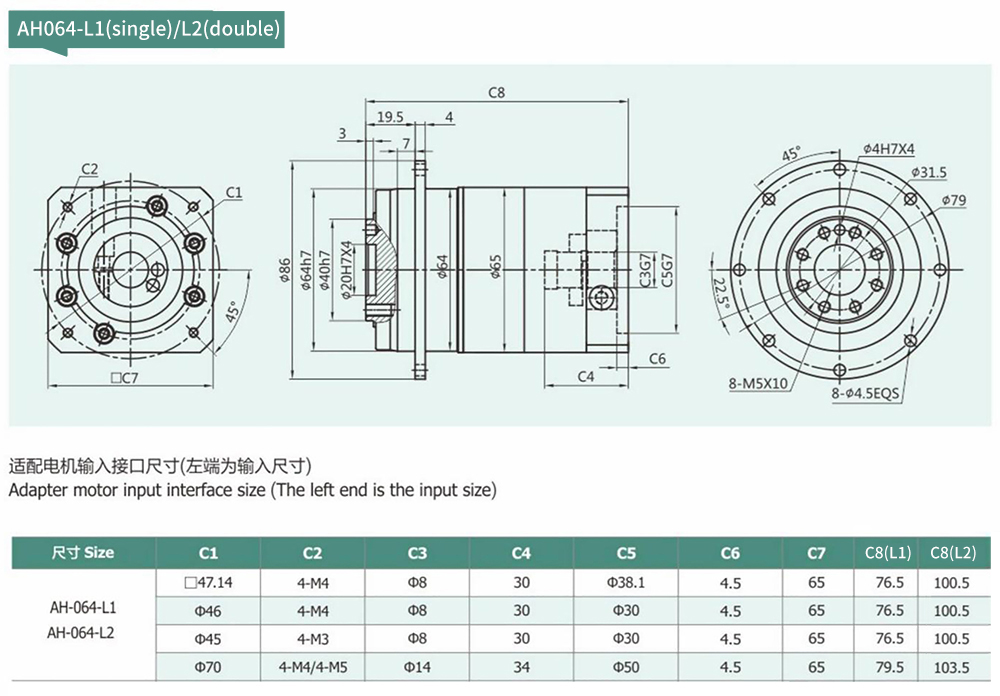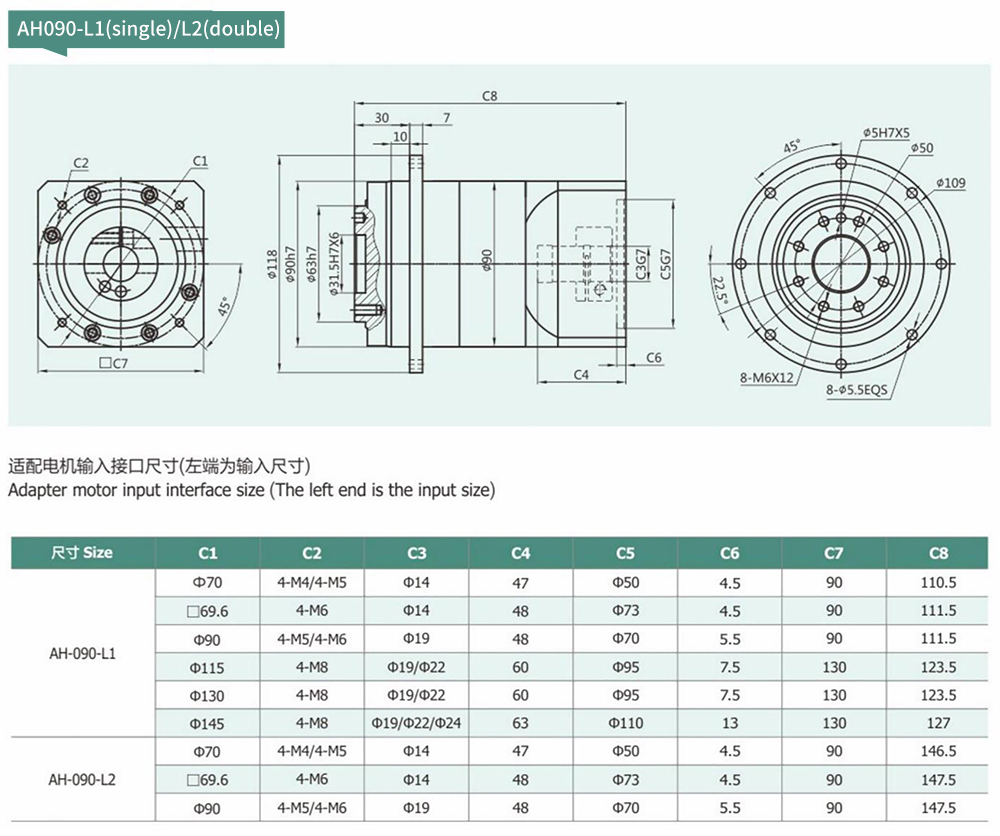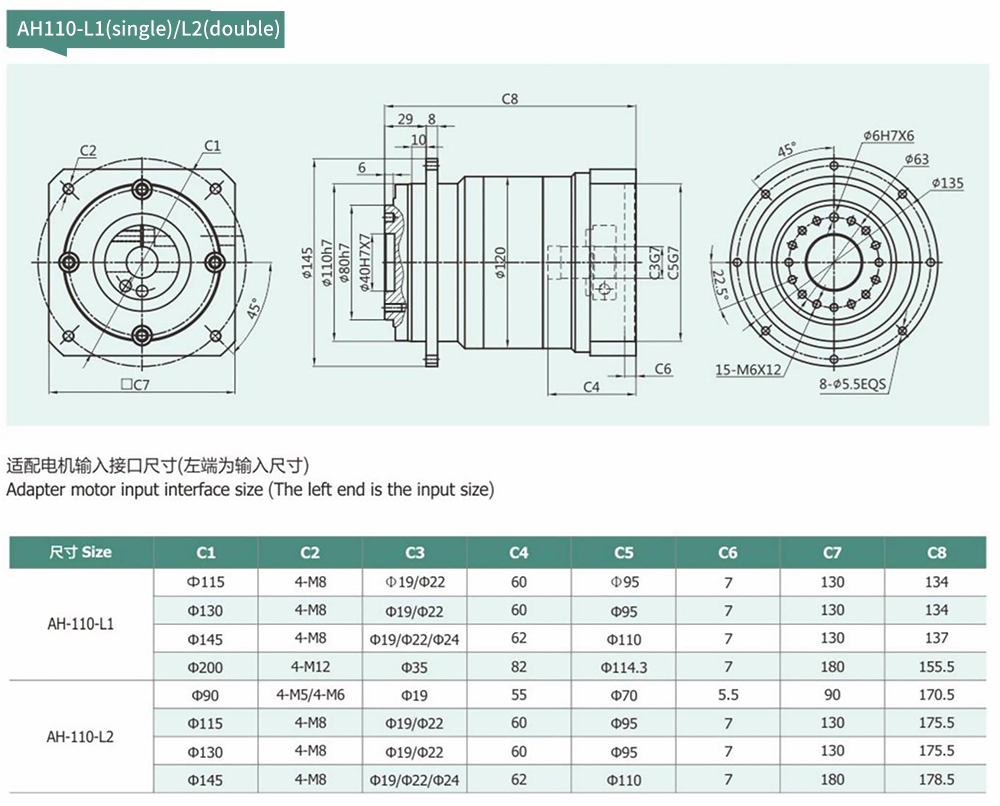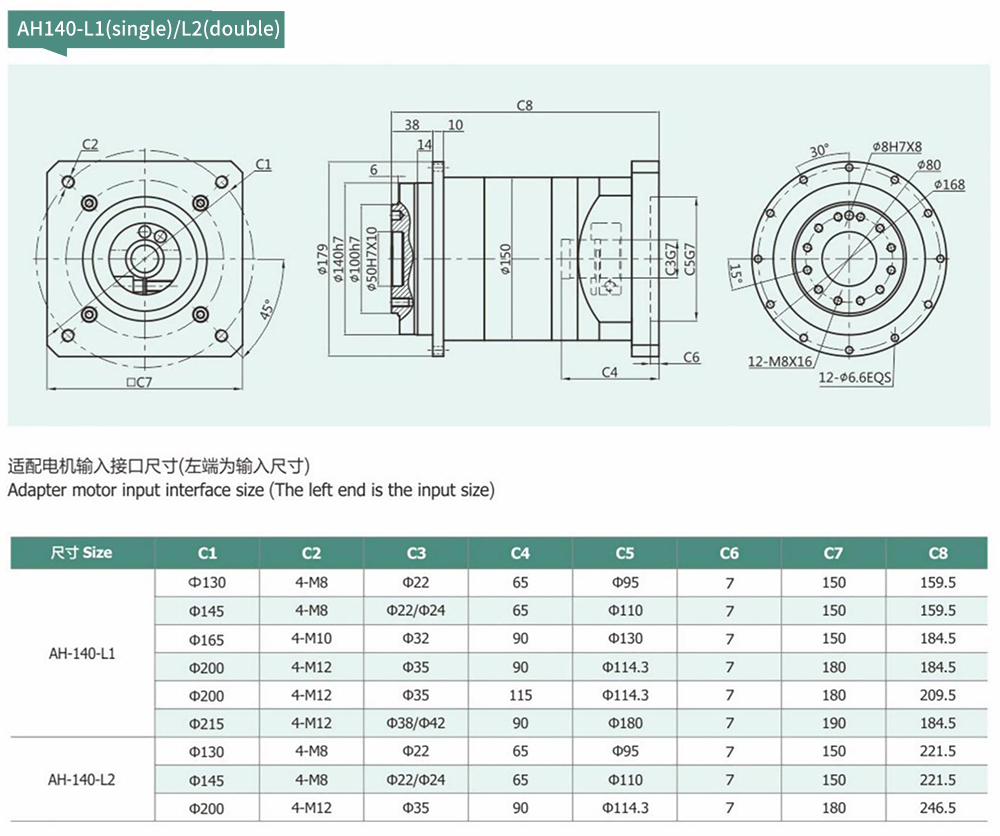 Helical gear transmission, carburizing and quenching treatment, tooth profile modification treatment, to ensure low noise and smooth operation. The bearing capacity is 20% higher than that of straight teeth.
Integral output shaft and bearing support at both ends of planetary wheel to achieve high precision and strength.
The backhaul clearance is small, and the precision single stage can achieve less than 3 arcmin.
A Manufacturer's Certificate of Origin, also known as a Manufacturer's Statement of Origin, is a specified document certifying the country.
CONTACT Lunyee
If you are interested in our company or products, you can contact with us through online consulting, demand table submission, e-mails and telephones. Our staff shall wholeheartedly provide product information, application knowledge and good service for you.