Christmas is a time of celebration and getting together with loved ones, and it is a holiday that many people enjoy. Santa Claus and elves will bring Christmas gifts and candies on this day, and people will give gifts to each other to express their love and blessings. Christmas is a festival of love and giving. As one of the important festivals of the year, every household will hold some celebrations on Christmas. Food also often plays an important part in celebrations. I believe that many people have already eaten traditional Christmas food on December 25th. Although traditional Christmas food is delicious, it inevitably lacks innovation. If you want to add unique and creative elements to this year's Christmas feast, laser engraving may be a fun and artistic way.
Laser engraving involves etching or marking an object with a laser beam. It can be used to create intricate designs on a variety of foods. Laser engraved foods look more sophisticated and are full of personality. Below, I recommend 3 laser engraved creative foods for your reference.
1. Personalized laser biscuits
One idea for using laser engraving in your Christmas treats is to create personalized cookies. You can use a laser engraver to etch your name or initials onto sugar cookies or pretzels. Not only does this add a personal touch to your dessert stand, but it's also creative as a small gift for guests and friends.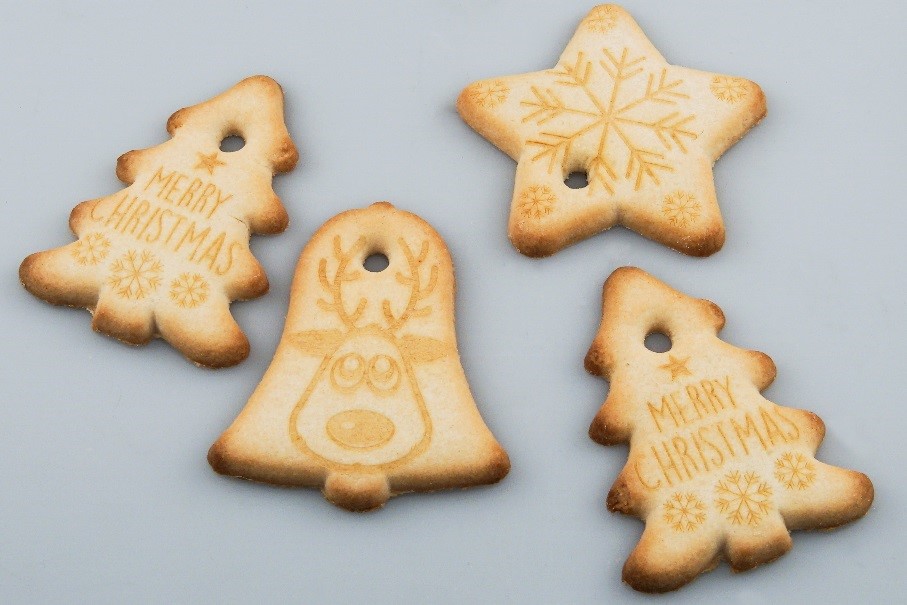 2. Creative chocolate
The second idea is to use a laser to create intricate designs on the chocolate. You can use a laser to etch holiday-themed designs like Christmas trees, snowflakes or holly leaves onto chocolate truffles or bars. This is a great way to add a touch of elegance to your dessert table.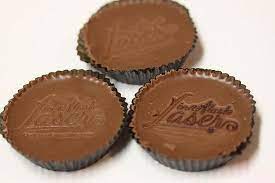 3. Fruit Carving
Fruit and vegetables can also be laser engraved, adding an unexpected artistic touch to your Christmas feast. You can use a laser to etch designs on apples, pears, and even root vegetables like carrots and beets. Here's a unique and visually stunning way to serve up your holiday side dishes.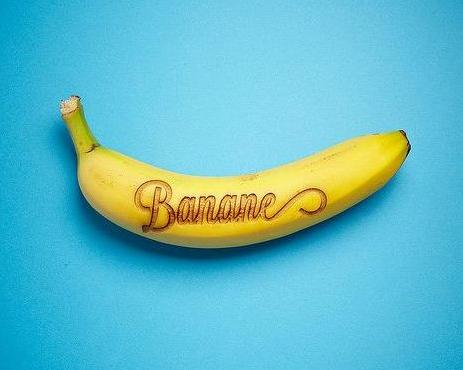 What should you pay attention to?
While laser engraving machine can add a creative and personal touch to your Christmas feast, it's important to keep food safety in mind. Be sure to use a food-safe laser engraver and follow proper food handling techniques to ensure that the food you engrave is safe to eat. Here I have some tips on laser engraved food to help you create your personalized food better.
Simple laser creations do not tend to affect the taste of food. However, when you engrave complex patterns with dark shades on food, it burns off most of the food's surface, which creates a bitter taste that makes it less palatable to eat.
When using designs with fonts, try to use bold fonts. Thin fonts are more prone to blur when engraving on food due to texture.
You can add intricate designs when dealing with foods such as fruits and vegetables, as most fruits and vegetables require the skin to be removed before eating.
Conclusion
Overall, laser engraving is a fun and creative way to add a unique touch to your Christmas treats. Whether you're creating personalized cookies, intricate chocolate designs, or artistic fruit and vegetables, laser engraving is a festive and artistic way to add a little extra joy to your holiday celebrations.